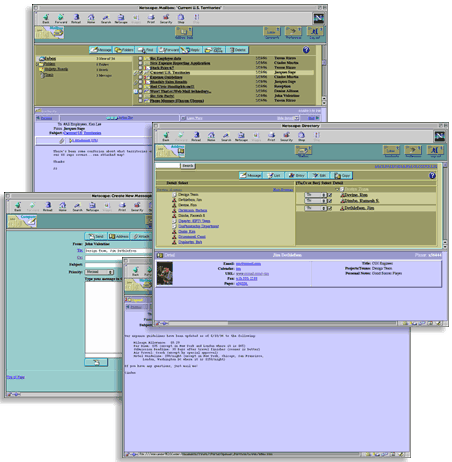 Information Architecture Challenge:
Map the user action of cc:Mail to screens for a web browser. Reflect as much functionality of the native client as possible. Adapt only when necessary for the much slower refresh screen rate of web and limits of HTML and CGI.

Solution:
We mapped user actions and work flows and determined there were three basic screens needed:

User Experience Challenge:
Design the user experience of web browser client for the world's most popular LAN messaging application. Define a look and feel which could be customized both by enterprise organizations and individual users.

Solution:
Designed a product with HTML based templates which enabled enterprises (customers) to modify the application look and feel to suit their needs. This approach also enabled extensibility to the application's functionality. An enterprise could integrate its own web application into this web messaging system.
Lotus determined it was best to limit the technologies to HTML, frames and CGI for greater browser compatibility. This meant the visual design required:
an application identifier for a the mail client
locator graphic defining the location within the application
navigation links to the main functional areas of the application
a color scheme (which could be readily changed)

Visual Design Challenge:
Design customizable look and feel for t for the world's most popular LAN messaging application.

Solution:
We designed both a generic color scheme and a color scheme to reinforce user actions. The generic color scheme used web safe colors loosely based Lotus corporate yellow with toned down versions of yellows and complementary purples to increase a sense of location and to reinforce the application feel. To reinforce user actions we included three color schemes (highlight, mid tone and shadow -- in the example teal, olive and purple). These color schemes could be replaced by a enterprise by modifying a text setup file on the server as well as all graphics and most the HTML templates.
Customization of look and feel was documented so the colors and graphics could be designed to be easily changed by an enterprise organization. This way they could offer their own look and feel by using their own colors scheme and graphics and even HTML templates to extend the functionality of the product.

Client: Lotus Development Corporation