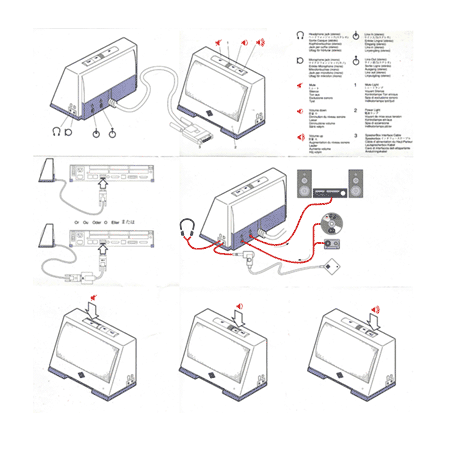 Information Architecture Challenge:
Map a information flow of the set up and use for the optional speaker which comes with a desktop workstation. The map will be used to create documentation to improve the out of the box experience.

Solution:
This device contained three buttons and four I/O ports and a serial connector.This meant the document needed to show:
connection to the system via serial port (set up)
operating the buttons (usage)
usage for I/O ports

headphones jack
microphone jack
stereo out (audio out)
stereo in (audio in)

User Experience Challenge:
Improve Sun's "out of the box" experience by creating readily understandable document. Design a fully internationalized short and concise document to enhance the out of box user experience for Sun's flagship desktop workstation. Confirm the document conveys the information with usability tests.

Solution:
Using the information map, we internationalized the document (making it work in all locales). We borrowed from the consumer electronics industry's reliance on illustrated documents. What couldn't be conveyed using illustrations could be by using international symbols. We worked closely with Sun's L10N (internationalization and localization) team to localize words.
Usability testing revealed button usage was not obvious (single-click buttons for volume up, volume down and mute). As a result, we added illustrations for button usage.

Visual Design Challenge:
Design the look and feel for documentation for the optional SpeakerBox accompanying a desktop workstations. Convey usage of I/O ports, connection and button operations.

Solution:
We started by trying to use illustrations whenever possible. It became clear illustration could convey most of the information with the combination of illustration and minimal set of localized wording. We localized the symbols with a legend since many of the symbols were somewhat less common than others. This allowed us to condense what had been a a 10-page into a 2-sided 1-page folded fully visual document.

Client: Sun Microsystems, Inc.