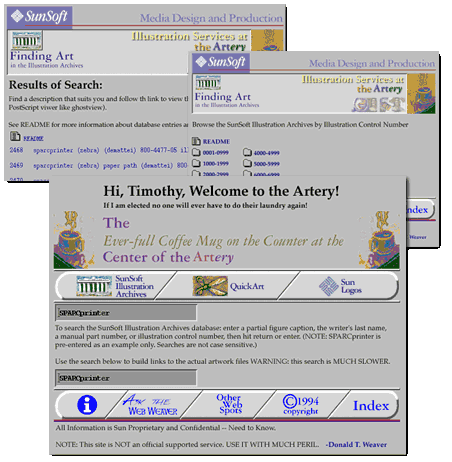 Information Architecture Challenge:
Map a information workspace to a navigational model for an illustration database for the Sun Information Products group. The database exists, but the application does exist yet.

Solution:
The user experience is unknown in all new applications. Information architecture is based on anticipated uses in such cases. The database originally existed for use by exclusively by the illustration group as a text search and as an archive of art files. This application was intended to help technical writers find old illustrations and request new ones. We determined the need for:
a simple text search
a more visual search (the ability to view art files associated the results)
the ability to browse the archives
some clip art and company logos

User Experience Challenge:
Design the user experience of a web front end of an illustration archive for the Sun documentation community. Writers documenting Sun products lacked information about existing artwork used in past documents. Often writers would create their own artwork or choose not to use artwork at all.

Solution:
Using the navigational model, we determined the application required a navigation metaphor and consistency of visual elements since it needs:
a consistent and amusing visual design
visual clues to the location
the ability to link art files to search results (so the user could confirm results by a simple click)
Increased the level of customer service by giving greater access internally to information about existing artwork for writers documenting Sun's products. Access to the database of existing artwork would assist in creating better artwork request and increase customer satisfaction. This was accomplished simply by using the results of a simple of a UNIX text search and building a web pages around it. Subsequently we extended those capabilities by adding a link-building capability. This allowed users to view art files from the search results with a single-click.

Visual Design Challenge:
Design the look and feel for a of a web front end of an illustration archive for the Sun documentation community.

Solution:
We chose to keep the graphics a little fun and funky since the tool was strictly internal to distinguish it from officially supported Sun external and internal web servers. We gave it header and footer graphics to visually define the site.

Client: Sun Microsystems, Inc.