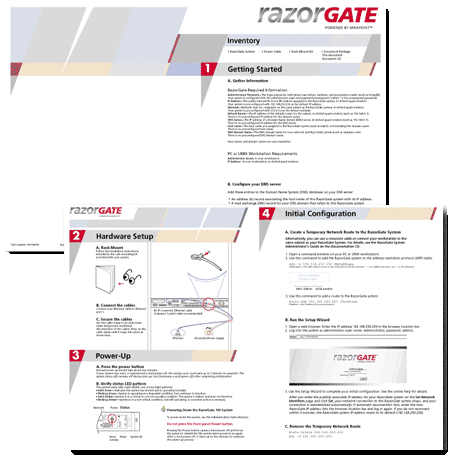 Information Architecture Challenge:
Map a information flow of the out of the box experience for Mirapoint's first channel market product. The map will be used to create documentation to improve and enhance the overall out of the box experience.

Solution:
The user experience here is system the system set up up through software configuration. We concluded the document must:
be short and concise and visual (after all, how quick is a quick-start requiring half hour of reading?)
the information could be contained in an inventory and four sections

preparation (gathering information, configuring DNS, etc.)
hardware setup
power up sequence
software configuration

User Experience Challenge:
Improve the "out of the box" experience by creating a readily understandable setup document to enhance the user experience for installing and setting up this rack-mounted email system. The audience is assumed to be English-speaking. Confirm the document conveys the information with usability tests.

Solution:
Another document contained rack-mounting instructions and software setup contained online help. This meant the challenge was primarily in conveying sequence and priority up to login of the software setup.
Could the user ascertain pertinent information in a timely fashion. Testing helped fine tune the graphic design layout and emphasis needed to guide users through the installation process.

Visual Design Challenge:
Design the look and feel for the quick-start document for Mirapoint's first channel market product. Utilize RazorGate products channel marketing guidelines.

Solution:
RazorGate was Mirapoint's first channel marketing product and required following a wholly new marketing guidelines. We created a layout utilizing the elements of the marketing guidelines for color, graphic elements and fonts, yet still kept the document looking and feeling like documentation, and not marketing collateral.
We confirmed the entire document could walk test subjects through the setup process. We fine-tuned layout after each round of testing to bring emphasis to information consistently overlooked during tests.

Client: Mirapoint, Inc